New Course!
Cartooning and Storyboard Techniques
Dates: September 28 – December 14, 2019
Saturdays, 11am -12:30pm Pacific
Location: Online Live Video Webinars, 10 sessions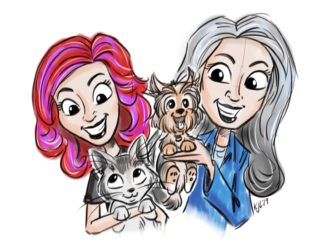 TWO NICHE EXPERTS
DEMYSTIFY THEIR GENRES!
Karen Lloyd and Christina Merkley (with sidekicks Skye and JJ) Teach Cartoon and Storyboard Techniques To Add To Your Graphic Recording / Graphic Facilitation Toolkit.
WHO THIS PROGRAM IS DESIGNED FOR:
This program is specifically designed for Visual Process Professionals — people who help groups and/or individuals think, feel and process in corporate, governmental, not-for-profit and other settings. Consultants, Facilitators, Trainers, Managers, Supervisors, Coaches, Counselors, Therapists, Graphic Recorders and the like. You most likely have invested in some beginner or even advanced training in the niche skills of Graphic Recording and/or Graphic Facilitation (Fundamentals of Working Visually and Magic Marker Masterminds or equivalent experience) … and would like to broaden your ability and confidence in live, spontaneous sketching, drawing and caricature. Others who benefit from this course are illustrators, graphic designers, cartoonists and other types of artists and creatives who are curious about applying their skills to the live GR/GF markets.
Saturdays, 11am – 12:30pm pacific
(Noon Mnt, 1pm Cntrl, 2pm Estrn)
Sept 28 – Dec. 14 (Off: Nov 2 & 9)
Deluxe: Jan 11, Feb 8 and March 7
10 LIVE INTERACTIVE WEBINARS:
Join Karen, Christina and your cohort for weekly live online instruction (all webinars fully recorded). Add on the Deluxe Level for additional feedback, support and private mentoring.
Event Date and Time:
Saturday, September 28, 2019 - 11:00am
Event Location:
Live Online
Weekly Webinars
In the comfort of your home or office, from Victoria
,
BC
:-)
Canada
Event Type:
Online Training Add To Your Visual Skills Toolkit