Fundamentals of Working Visually: Home Study Kit
18-Module Home Study: Visual Skills for Process Work with Groups and Individuals.
For Managers, Leaders, Consultants, Facilitators, Trainers, Coaches, Therapists, Scribes and Others Who Work with Groups and Individuals. Also for Illustrators, Designers, Artists, and Other Creatives.
NOW AVAILABLE IN 18 MODULE HOME STUDY KIT
LEARN FROM THE COMFORT OF YOUR OWN HOME!
Full Details and Immediate Download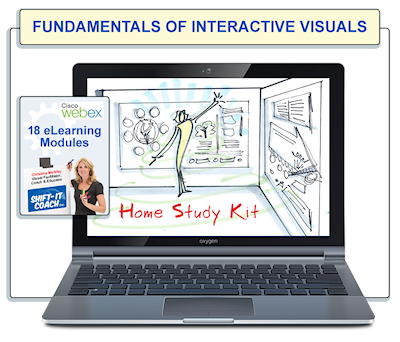 This Graphic Facilitation Home Study Kit is my latest way of getting my valuable knowledge into the hands of Process Professionals across the globe. The structure and material have been honed from my organizational development, change management, facilitation and coaching experience across a broad range of corporate, governmental and not-for-profit settings.
This Home Study Kit is based on my internationally acclaimed FUNDAMENTALS OF WORKING VISUALLY training. If you have not already read about this training, I suggest you visit that info page first, for preliminary context, then return to this page for specifics about the handy Home Study Option.
Also, an important FYI … fees are in Canadian funds. Currently, the Canadian dollar is low (it hasn't been this low for a decade), so for Americans, Europeans, and some other locales, this translates into additional savings for you! Now is a really good time to secure these highly useful skills. See currency converter.
Event Date and Time:
Monday, January 20, 2020 - 9:00am
Event Location:
at your own pace
,
BC
Home Study Kit
Canada
Event Type:
Graphic Facilitation Self-Paced Online Training: From Your Office or Home